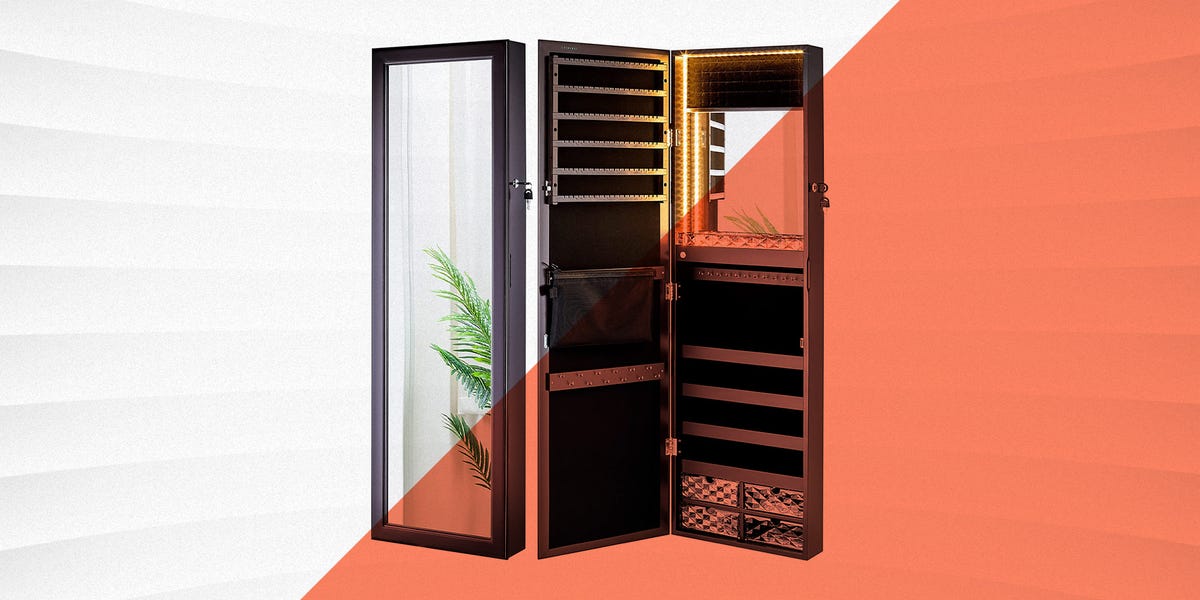 Best Closet Systems 2021 | Closet Organization Systems
Table of Contents How to Choose the Right Closet SystemHanging SpaceShelves and DrawersHow We Selected
Staff, Courtesy of Amazon
If your closet is a mess or not as neat as it could be, browsing through organization systems online can be overwhelming. It's hard to know where to start since there are so many types of items—shirts, jackets, shoes, socks—and they all need to be organized differently. Should you invest in drawers, or would it be a better idea to stick with hangers? The best closet system will depend on your needs. We've put together a guide with different closet organization systems to consider.
Organize Everything: Tidy Up Your Workspace with These Desk Organizers | The 10 Best Shower Organizers | Declutter Your Car or SUV With the Best Car Organizers
How to Choose the Right Closet System
"Before recommending any type of organizing products and solutions, I always recommend that you declutter first," says Millie Naor, founder of Bella Organizers, a New York–based professional organization company. She stresses that it's important to have an accurate inventory of what you own before you start browsing online. Don't overlook how much room you need for larger or bulky items, like shoes.
There are different ways to make use of closet space. The main two categories to consider are hanging space and shelves and drawers.
Hanging Space
Naor says you'll want to come up with a ballpark estimate of how many hangers you'll need and the type of clothes you'll be hanging. "Coats will take up more space, dresses will need longer hanging space, and things like shirts and pants can be on a clothing rod that are shorter," she says.
Shelves and Drawers
If you don't have a dresser, you might want to purchase a wardrobe that comes with drawers. You'll likely need at least two to three drawers for things like undergarments, pajamas, and gym clothes, Naor explains. Shelves are useful for storing clothes like sweaters and sweatshirts, as well as shoes and purses. High shelves are a good spot for items, like off-season shoes, that you would like to store in bins.
If you don't have a designated closet in your home, consider a freestanding closet model that combines one or more hanging rods, along with shelving space.
How We Selected
Because closet systems vary so much by each individual's needs and spaces, we spoke with Naor and other professional organizers about their experiences working with clients and how they tackle different organization challenges. Naor recommended her go-to products that she frequently uses with clients and told us why they work. We've also included our own tested recommendations that have solved organizational problems we've experienced over the years. As a last measure, we considered the customer reviews of top-rated closet systems on popular retail sites, such as Wayfair, Walmart, and Amazon.
Advertisement – Continue Reading Below
Best Hanging Closet System
Rubbermaid Configurations Deluxe Closet Kit
Rubbermaid
amazon.com
$159.99
Key Specs
• Material: Aluminum
• Dimensions: 96 x 72 x 12.85 in. 
The Rubbermaid Configurations Deluxe Closet Kit could work as a freestanding wardrobe if you don't have a closet or as a system to install within a larger closet. It's also a great solution for a walk-in closet. The adjustable rods and shelf space expand up to 22 feet, and it comes with seven shelves and two hanging rods. 
Good mix of shelving and hanging space
Not the most attractive as a stand-alone closet
Best Large Freestanding Closet With Rods
Vipek 5 Tiers Wire Garment Rack
Key Specs
• Material: Metal
• Dimensions: 74.4 x 76.8 x 17.7 in. 
This garment rack—available in white, black, gray, and bronze—is a great choice for a freestanding closet that's best suited to hang coats and longer items like dresses. It comes with three rods, can hold up to 600 pounds, and assembles easily. It can also be arranged in the corner of a room as an L-shape.
Ideal for hanging clothes
Best Budget Closet System
Seville Classics Expandable Closet/Room Organizer
Seville Classics
amazon.com
$128.03
Key Specs
• Material: Steel
• Dimensions: 58 x 72 x 14 in. 
If you are looking for a temporary closet system that will hold up, the Seville Classics Expandable Closet is an ideal choice. This closet system works for both transition homes and as a more permanent solution, and it's one of the most solid and well-built freestanding wardrobes you can find for under $150.
Affordable
Expandable width up to 83 inches
Not as sturdy as other closet systems
Best Over-the-Door Organizer
Elfa Platinum Utility Closet Over the Door Rack
Container Store
containerstore.com
$103.00
Key Specs
• Material: Steel
• Dimensions: 17.6 x 80 x 5.3 in.
"If you have a walk-in closet and need a bit more functionality, an over-the-door organizing unit is a great solution," Naor says. The Elfa Platinum Utility Closet Over the Door Rack is "functional and you can store a variety of items: hats, purses, sunglasses, sanitizer, and the list goes on," she adds. 
Adjustable and can fit many different objects
Not ideal for already full closets
All-in-One Closet
Tribesigns Freestanding Closet Organizer
Tribesigns
amazon.com
$209.90
Key Specs
• Material: Metal
• Dimensions: 47.2 x 70.9 x 15.7 in. 
The Tribesigns Freestanding Closet Organizer is an all-in-one closet system. If you're starting the organization process from scratch, this product can take care of everything you need to keep a tidy wardrobe. It comes with two hanging rods, multiple shelves, and enough space to store shoes, clothes, bags and other accessories. It can also work as a stand-alone organizer if you don't have a formal closet but need a way to hang your clothes. 
Only suitable if you have the free space
Best Closet Organizer With Drawers
ClosetMaid SuiteSymphony Closet Organizer with Shelves and 2 Drawers
ClosetMaid
amazon.com
$297.22
Key Specs
• Material: Wood
• Dimensions: 112 x 82.5 x 14.7 in.
The ClosetMaid SuiteSymphony Closet Organizer provides a more polished look compared to other closet systems in this price range. It's available with two different drawer configurations: two 16-inch wide drawers or three 25-inch wide drawers. Although this will only fit specific closets, it could be the upgrade you've been looking for. 
Combines hanging space, shelves, and drawers
Polished aesthetic
Requires assembly
More expensive than similar competitors
Best Starter Closet System
Rebrilliant Flemings Closet System Starter Kit
Rebrilliant
wayfair.com
$150.42
Key Specs
• Material: Wood and metal
• Dimensions: 32 x 8.5 x 11.8 in.
This closet system starter kit is ideal if you are just beginning to put together an organization system for your wardrobe but don't want to invest in a whole system or don't have a ton of space. It comes with two different shelves, both outfitted with a hanging rod. Depending on your closet size and needs, choose between several different widths, from 32 inches up to 88 inches.
Doesn't take up floor space
Versatile
Best for Shoe Storage
Rebrilliant Wilbur 30-Inch Closet System Walk-In Tower
Rebrilliant
wayfair.com
$322.94
Key Specs
• Material: Wood
• Dimensions: 29.5 x 80.9 x 17.5 in. 
If storing your shoes is a priority, consider the Wilbur 30-Inch system. The racks are on an angle so that your shoes are better displayed. It comes with two additional shelves and one rod. Keep in mind that this system is best suited for hanging shirts and suits and not tall enough for dresses.
Ideal for shoes
Best for small spaces
Expensive
Not tall enough to hang dresses
Two-in-One Mirror and Jewelry Cabinet
Luxfurni Mirror Jewelry Cabinet 79 LED Lights Wall-Mount
LUXFURNI
amazon.com
$159.90
Key Specs
• Material: Engineered wood
• Dimensions: 14.5 x 47.2 x 3.5 in. 
If you own a lot of jewelry, this two-in-one mirror and jewelry cabinet provides a unique solution. You can either hang this over a door or mount it onto a wall. The best part is that it provides a clean aesthetic—your jewelry and other small items are neatly stored away when you're not using them, but you can also clearly see everything you own in one place when you need them. 
Ideal for people with a lot of jewelry
Might be difficult to install
Ready-Made Shelves
Organized Living freedomRail Wood Shelf
Organized Living
amazon.com
$28.95
Key Specs
• Material: Wood
• Dimensions: 30 x 0.6 x 14 in. 
"Depending on the size of your closet, extra shelving can be a useful addition," Naor says. "When assessing a closet, there is usually vertical space from the last shelf to the ceiling that is not being optimized." Make use of this additional space with one of these white-painted wood shelves, available in nine different sizes. Simply install it on Organized Living's freedomRail Upright or Spanner rails and two or more brackets.
Affordable solution for more shelf space
This content is created and maintained by a third party, and imported onto this page to help users provide their email addresses. You may be able to find more information about this and similar content at piano.io
Advertisement – Continue Reading Below