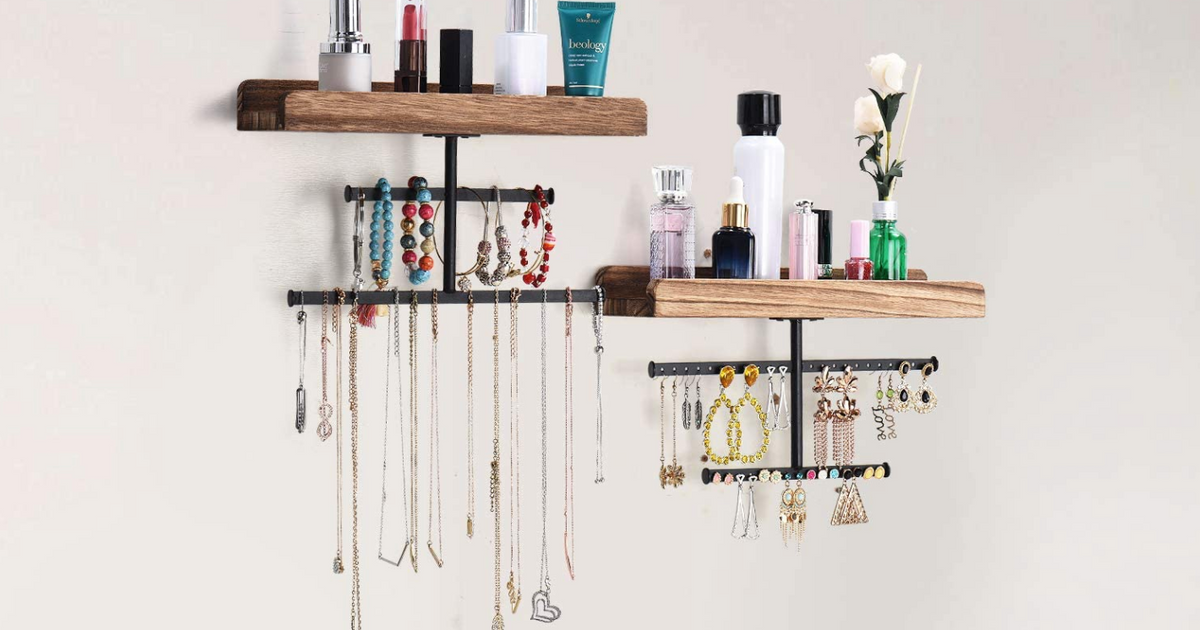 19 Best Jewelry Organizers 2020 | The Strategist
Table of Contents People's Choiceget the strategist newsletter People's Choice Welcome to People's Choice, where we
We've written about lots of organizers before for corralling your odds and ends — including desk organizers, shoe organizers, and trunk organizers — but here, we've rounded up the best jewelry organizers, as praised by the most enthusiastic reviewers on Amazon.
Related Articles: Best Jewelry Cleaners | Best Fine Jewelry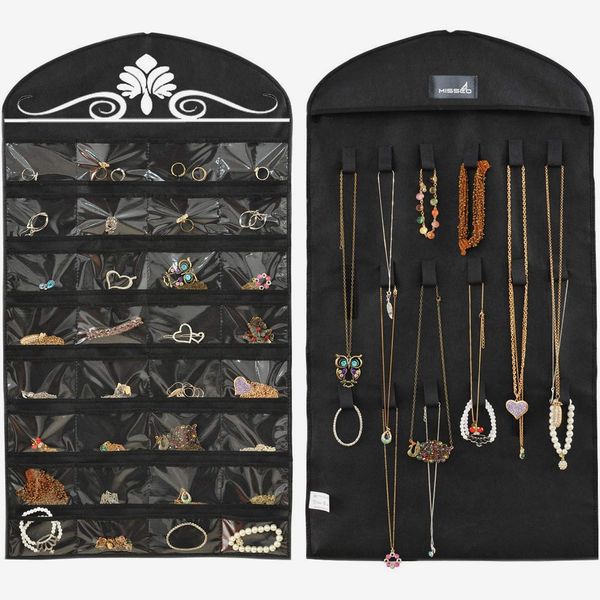 Jewelry-lovers complained about twisted and tangled jewelry before finding this hanging organizer. "What a stress relief not having to dig for a pair of earrings or untangle necklaces from a box. This is neat and easy," writes one reviewer. Many just appreciate that it also allows them to see everything in their collection. One reviewer says her jewelry is now "easy and accessible to get to," adding, "I'm wearing jewelry that I haven't seen in years because it was wrapped up in felt bags. The organizer is simple and keeps jewelry from tangling." And dozens more call this a space-saver, including one who also calls this "a life saver." She adds, "I've struggled for years to find a jewelry organizing solution that was easy, convenient, involved little to no space, and still allowed me to easily pick out an item to wear. This is perfect" Many reviewers do warn that this is not a travel-sized organizer, though one writes, "I don't know if I would travel with it, can't imagine needing that many accessories for a trip, but if I needed to, I think it would be fine."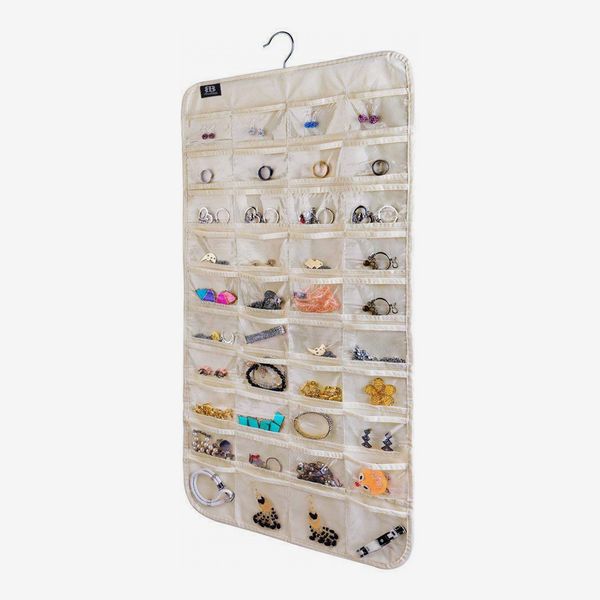 The simplicity of this hanging organizer blew reviewers away. One calls it "so simple yet amazing" and writes, "I can see all my jewelry at once. I probably fit seventy or more pairs of earrings, bracelets, and pendants. They are easy to grab and put back." She warns that it's not the most attractive organizer: "If you have a very fancy room, it might not match, but for the rest of us it is amazing, practical and if you travel, you could probably just fold it and put it in your suitcase." One more says, "I live and breathe by this hanger." And as she explains, "Bottom pockets hold bigger items, and the double sided nature of the thing is splendid. Also, whatever fabric they used to make it is SO durable." Another reviewer says that this makes getting dressed and accessorizing easy: "Now, when I want to find the perfect jewelry for an outfit, it's all hanging right there taking up less space than a dress in my closet."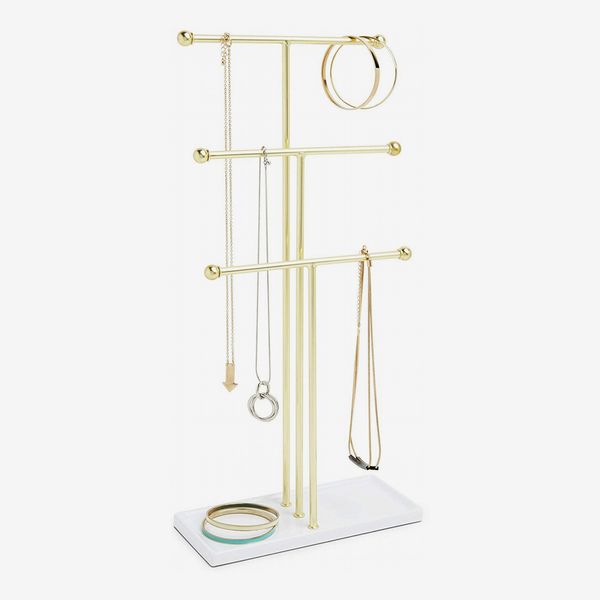 "For the first time ever, my jewelry is completely organized and easily accessible in a fairly compact area," writes one reviewer. She thinks the main perk of this three-tiered organizer is that she "no longer has to search through a jumbled box for a particular item or untangle a mass of chains. The top rack is high enough for my longest chains, every item is visible, and I can quickly find what I'm looking for." Many more appreciate the three different tiers, which one reviewer describes as "perfect for my longer and shorter necklaces. The shortest one in front is great for displaying my bracelets that I also collect." Aside from the amount of space that's saved, reviewers love the sleek design. "It looks even more elegant in person," says one reviewer who also writes, "The gold doesn't look tacky at all." Even after five months, one reviewer writes, "It's as sturdy as ever."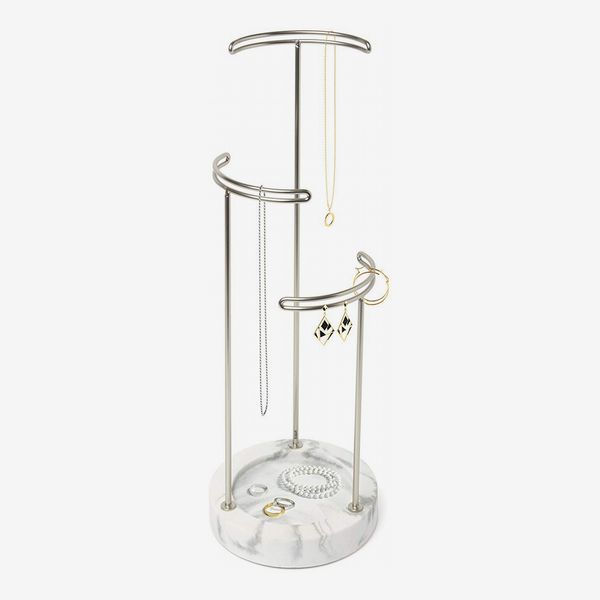 While this three-tier organizer can easily hold necklaces too, reviewers say the slotted racks make this organizer ideal for earrings. One reviewer only wears hanging earrings and says "those store perfectly on it." She notes that the size is deceiving in the photos because at first she "was nervous with only three stands that it wouldn't store everything I have," but adds, "it stores so much. It arrived taller and wider than I imagined. It's like a piece of artwork in my bathroom, to be honest." And she's not the only one who calls it "art." Another reviewer says it "looks like a piece of art" because it's "both elegant and minimal," but the stand out feature is how sturdy it is. She writes, "It does not topple over with the weight of jewelry." Another chose this model specifically because "it can hold earrings just as easily as necklaces and bracelets," which isn't often the case with these hanging organizers.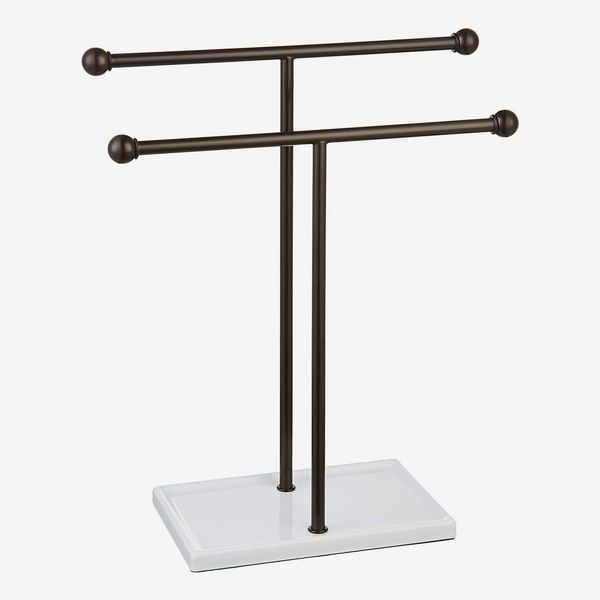 Customers who don't have the space for a three-tier jewelry stand chose this smaller two-tier model from AmazonBasics. "This takes up much less room and a multi-tiered velvet bar display," writes one reviewer who bought this for her watches and necklaces. Another says that even with just the two tiers "there is more room to hang the necklaces" than she would get keeping them in a drawer. She also appreciates that she "can see them at a glance." And one more reviewer likes the "little dish at the bottom" because she can keep "rings and a couple of my favorite pairs of earrings."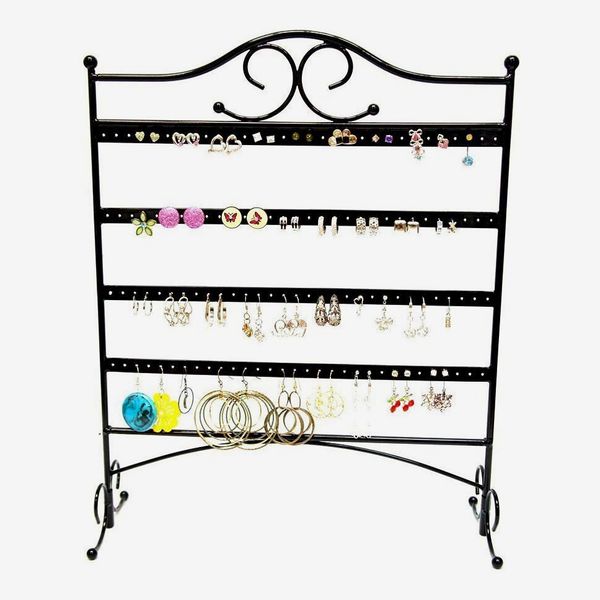 The perk of this earring organizer is that it keeps everything in one spot without taking up too much room. One reviewer who calls this organizer "perfect" writes, "It not only provides a method to organize your earrings, it does so in a small footprint, not taking much counter space. As I was hanging my earrings, I realized I had earrings I had not remembered and I could easily see all of them as they are displayed on the rack." One more agrees that she can now "easily see my earrings," but she mostly loves that this "helps to quickly organize as as as pick out which pair to wear versus digging in a jewelry box." A few reviewers questioned how sturdy this would be since it's relatively thin, but one reviewer confirms, "It is very sturdy and stable, well made and not at all flimsy." She even says "It can actually hold double what it describes."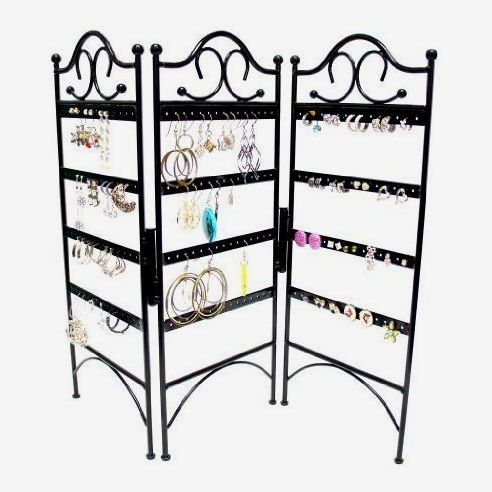 This was a miracle for me," writes one reviewer of this large jewelry organizer, explaining, "I have more earrings than any normal person should own. Not sure how I lived without this." Another went on an earring haul and "bought over 39 pairs of earrings (don't judge me)," and writes, "This holds them all and has room for even more. This rack is gorgeous, durable, and holds many pairs of earrings." Another appreciates that she "can see all my jewelry. No more wearing the same accessories again and again just because they are all hidden away in the dresser." And one more jewelry maker struggled to find a way to "display them on my dresser that was a practical storage solution," but with this organizer, she writes, "This made me so happy. My earrings are not on top of each other and the holes are perfectly sized for wires/leverbacks/posts."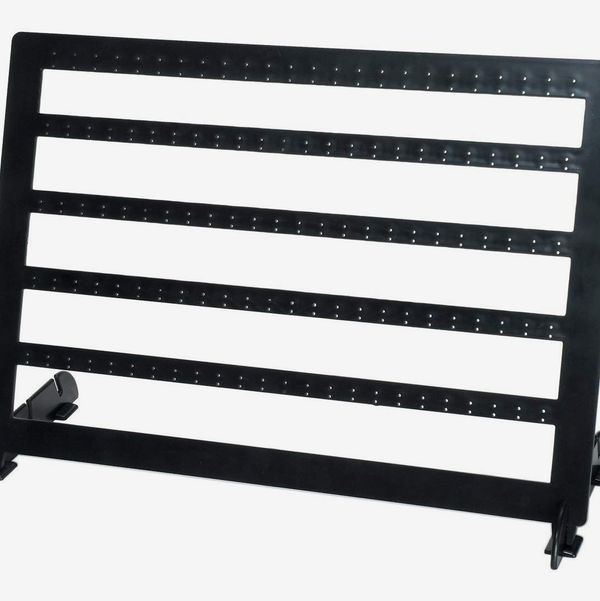 While this earring display isn't the most decorative of the bunch, reviewers say it organizes large volumes of dangling earrings easily. One jewelry seller calls it "unfancy" but is actually impressed that she can fit 15 to 20 pairs of "big and dangly" earrings on it. Another loves that she "can finally buy earrings and not worry about losing them" thanks to this simple jewelry display. She puts dangling and stud earrings on here, recommending putting "dangly earrings on the bottom so they don't dangle on other earrings." One more reviewer points out a crucial point, writing, "You can hang earrings without taking the time to take the earring back off, put it in the hole, then put the backing back on. That takes too much time! This was the only one you can quickly hang."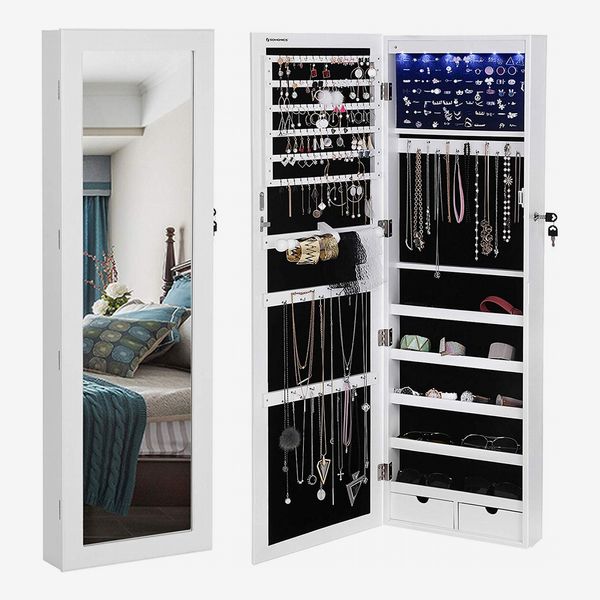 "I was always opening small boxes and jewelry pouches every morning as I was getting dressed in the morning. Now, I just open my closet door and open the armoire door and all my accessories are right there in front of me. I feel so organized," one reviewer writes. And nearly 250 more reviewers say this jewelry mirror-cabinet hybrid makes them feel organized. One more reviewer says keeping her jewelry in a jewelry box was "time consuming to find something to wear," but after purchasing this, she writes, "Finally, now I can see everything right away." A few don't love the LED lights, saying they're not bright enough to be useful, but at least one reviewer loves it. She writes, "the LED lights in the top are super helpful to light up the inside." She also notes, "There is a ton of space for all sorts of various styles of jewelry."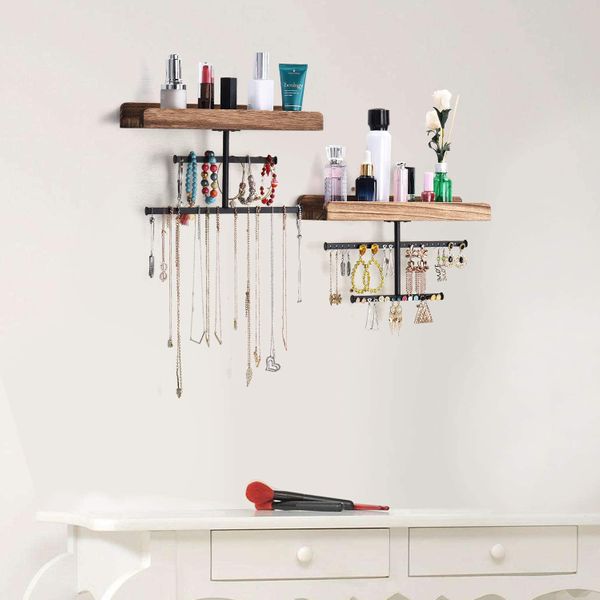 The standout feature on this wall-mounted organizer is the shelf at the top of the stand, which reviewers say is an ideal spot to store makeup and toiletries (and, in turn, free up some counter or dresser space). Others found the wood and iron construction to work with a wide range of decor. "What's not to like?" asks one reviewer. "I originally bought it to put inside the closet but it's so tastefully simple that I decided to show it. I've had multiple compliments on it." Another reviewer agrees, adding that their jewelry is "displayed beautifully" and that they can now piece their outfits together "without a tangled mess."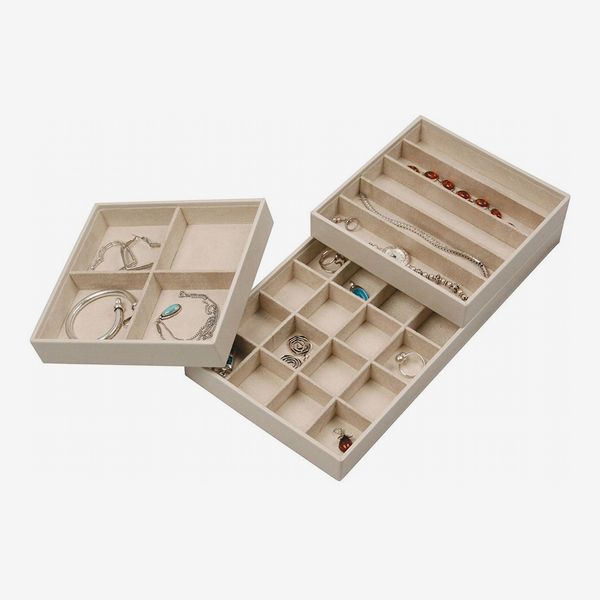 For those who like to keep their jewelry tucked away, this organizer sits within a drawer with each tray neatly stacked on top of one another. One reviewer "placed the trays in a drawer in my nightstand so the jewelry is out of sight and dust." She also ensures that it's "very easy to see exactly which piece of jewelry I want to wear each day," which was a big concern for many other reviewers. Another customer agrees that she "can see it all at once in a glance" despite being "out of the way in a drawer." And one more has even stronger feelings, writing, "Oh my god. It's the best thing that happened to me. This jewelry tray fits perfectly in my dresser and now I can see all my jewelry displayed so nicely and organized. The best part the look is so elegant!"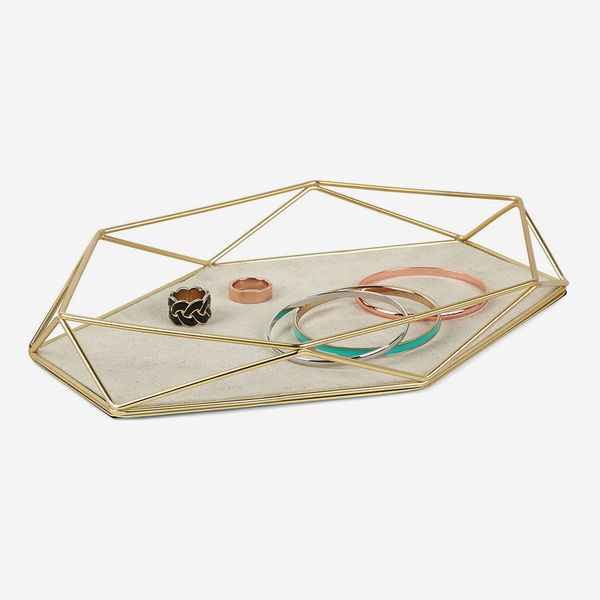 This geometric tray appealed to reviewers because it's attractive enough to keep on their dresser. "I looks so good on my industrial wood West Elm table," writes one reviewer who says "it holds more stuff than I imagined." Another appreciates that there's felt on the bottom "to protect from scratches." She originally was concerned that "the fabric on the inside would look and feel weird, but it is very soft and is a wonderful touch." And one more says this is "just like trays at places like Urban Outfitters" but less expensive and "slightly smaller but still perfect for what we needed."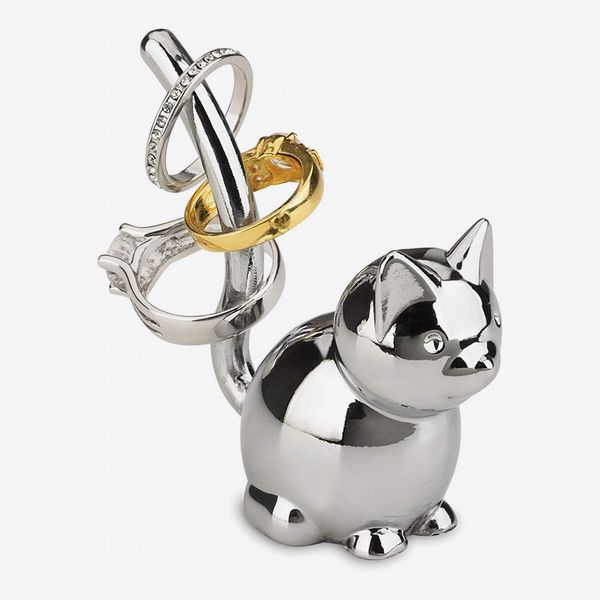 This charming ring holder comes in multiple animal shapes, including an elephant and a French bulldog, as well as this very-popular cat. But aside from the whimsical design, reviewers appreciate the functionality. "Awesome way to keep my rings in one place after a long night at work," writes one reviewer, adding, "And did I mention it is super cute?" Another calls this "a convenient item to have" because as she writes, "It keeps my rings in place so I don't lose them. It is heavy and stable on my dresser as well. It was inexpensive as well, so bonus there!" A third reviewer even advises other customers to "treat yourself" with this ring holder, saying, "This is the cutest thing on my vanity dresser. I even put my hair ties on it. Very cute and functional and barely occupies space and heavy enough that it doesn't budge with all the weight on it."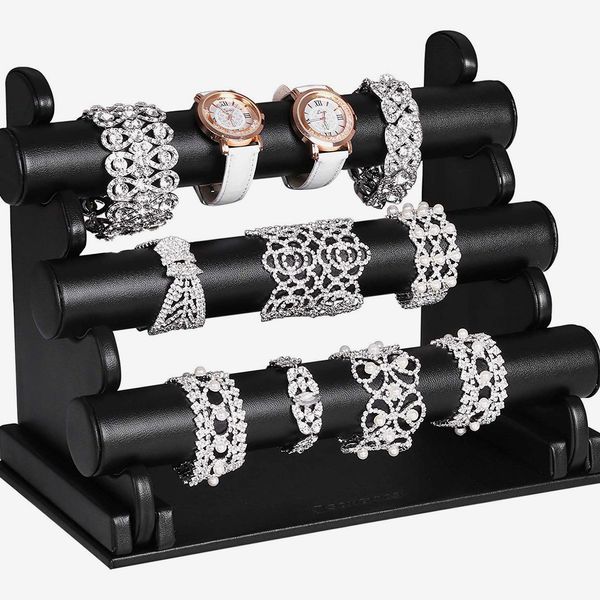 A quarter of all five-star reviewers call this bracelet holder "easy" to use. One reviewer says it's "easy to take bracelets off and put them back on," while one more just thinks it "makes getting ready in the morning much more fun and easy now that I have a direct viewer of what I have available to wear." Another customer likes this holder for "displaying watches," explaining, "I was able to easily fit twenty watches on it and half of them are very large. Item was easy to assemble and looks great on my nightstand. Will most likely purchase another in the near future as my watch collection continues to grow."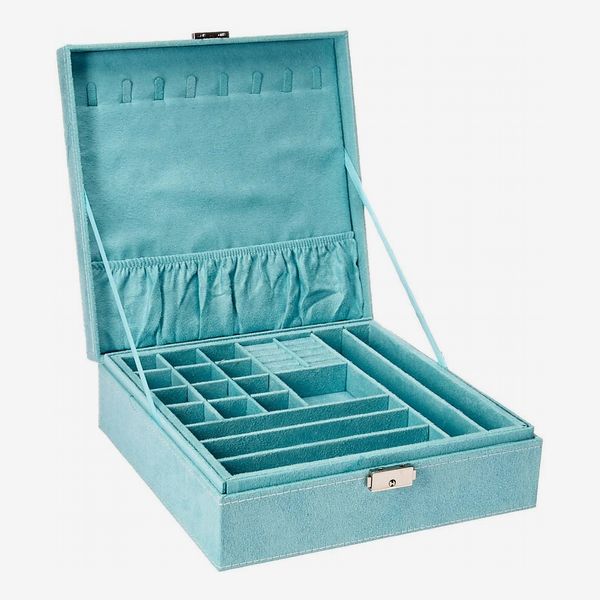 People who prefer a more traditional jewelry organizers turned to this box because of its size. It has two full compartments for bracelets and rings, plus hooks for necklaces. One reviewer says that this organizer, "Holds a ton of earrings and rings, easy to see AND put back at the end of the day. Has made a HUGE difference for me." Another reviewer thought she downsized with this box but writes, "There are so many little compartments that when I moved all my jewelry from my larger box into this one I still have plenty of room for more; I was surprised."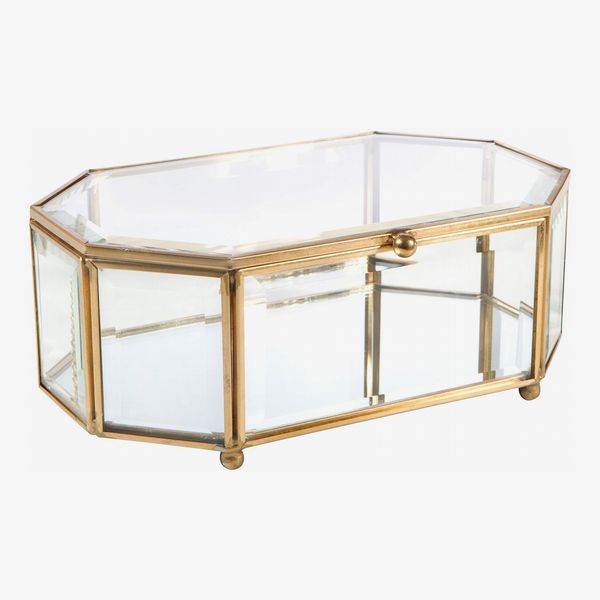 While more of a display case than an organizer, this vintage-inspired jewelry box gets a five-star rating from 80 percent of reviewers, and it's often used as a décor piece. "Great accent for my counter dresser and holds jewelry where I can see it," writes one reviewer. A second calls it a "beautiful" option for keeping "daily jewelry" close at hand, while others call out its convincing faux-antique (and "very Beauty and the Beast–esque") craftsmanship. "It's the perfect combo of vintage meets modern," one reviewer writes. "I will definitely be buying more!"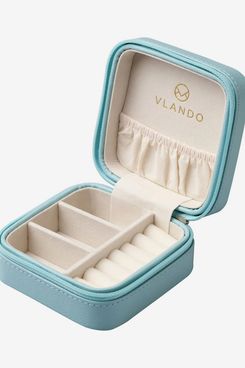 This compact jewelry box appears small, but it "really packs a punch," says one reviewer. It can easily fit multiple necklaces, rings, bracelets, and even watches because of its elasticized pouch and customizable dividers. "I found the pouch in the upper section to be really good for delicate chain necklaces so they don't get twisted and knotted," one reviewer writes, while another appreciates "that you can take out the little dividers to configure the space needed." Over 70 reviewers mentioned "high quality" or "good quality" in their comments, finding that it exceeded expectations for its under-$15 price tag. "Your girlfriend/wife will really appreciate this quality item," one assures. "Just don't tell her how must you paid for it …"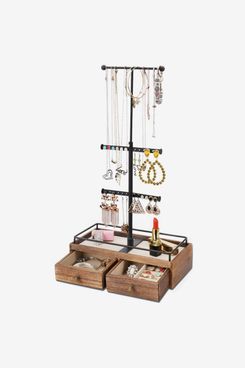 Over 900 reviewers gave this jewelry stand-slash-jewelry box a five-star rating, finding it easy to assemble, stylish, and a great space-saving option for those who have a lot of jewelry. As one reviewer writes: "I was honestly a little bit skeptical if this could stand up to my jewelry — I have several longer, hand made, custom pieces that are fairly weighty. It has been able to hold all of them and is very stable." Another found that it cleared up lots of space on their dresser and took mere seconds to assemble, concluding, "Who knew a jewelry stand could change my life?" Others called out the convenience of the drawers for keeping smaller, delicate pieces tucked away — particularly from mischievous pets. "Love the small drawers especially for loose items," one satisfied reviewer writes. "Keeps my cats from stealing them."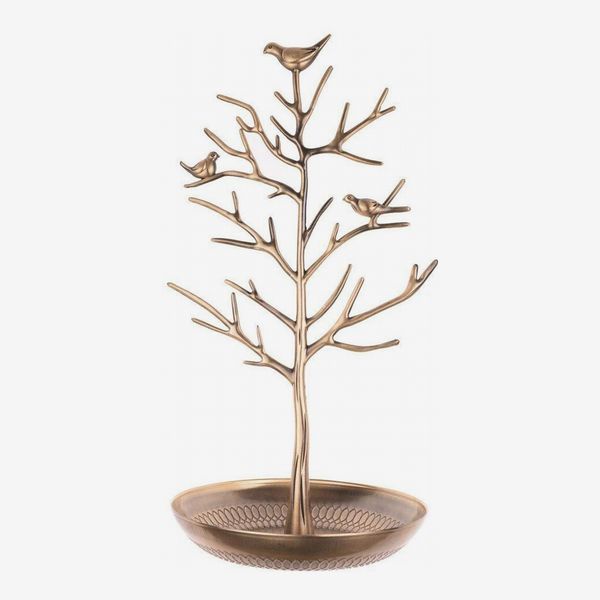 Many think that this jewelry tree that's actually shaped like a tree adds an elegant, sculptural element to their spaces while being completely useful. "It's not just beautiful, but completely functional too," writes one reviewer. Another thinks it perfectly matches her "minimalist inspired home," calling it "so attractive and simple." She adds that "the holder was a little short for some of my chains," but says it's not a deal-breaker because "they sit nicely in the pan on the bottom." A third reviewer thought this was good-looking enough to gift, writing, "For Mother's Day, my mom wanted a jewelry tree that was whimsical but still chic to put on her dresser. This fit the bill perfectly. It's not too tall but it's tall enough that she could hang a couple of necklaces on it. The brushed nickel finish was clean and elegant looking and she loved that the jewelry tree was actually designed to look like a little tree."
The Strategist is designed to surface the most useful, expert recommendations for things to buy across the vast e-commerce landscape. Some of our latest conquests include the best acne treatments, rolling luggage, pillows for side sleepers, natural anxiety remedies, and bath towels. We update links when possible, but note that deals can expire and all prices are subject to change.