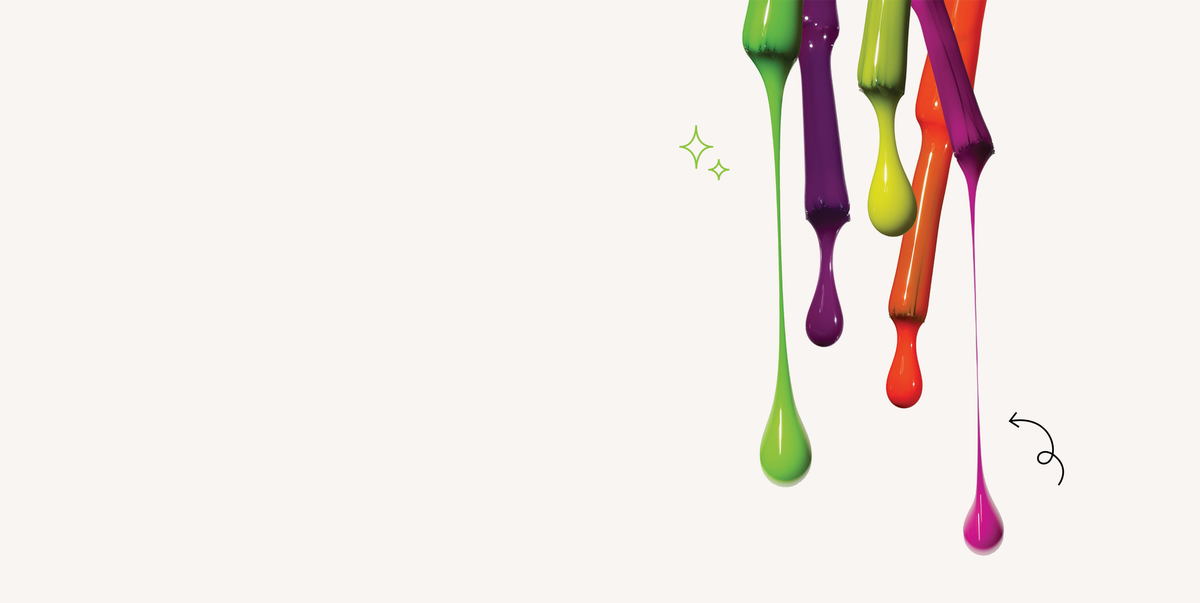 15 Nail Polish Organizers and Storage Ideas for 2021
Getty Images I didn't realize how much nail polish I actually owned until I started
I didn't realize how much nail polish I actually owned until I started scrambling through a worn-down basket for 20 minutes (okay, 15) looking for my favorite pink shade. If that sounds anything like you, I'm glad we have something in common—and I can guarantee you're in need of an organizational quick fix for your nail polish. I mean, who has time to sift through a sh*t ton of little polishes that are scattered all over your house? I say it's time you take your power back, or in this case, space—and it all starts by investing in a nail polish organizer.
And bc I know you're thinking it: No, you don't have to be a nail technician to own an organizer— they're great for collections of all sizes (seriously, even if you rely on the same three shades of red nail polish). Below, I have plenty of options for you, like an elegant wall rack and a cute zippered pouch, that are all equipped to stash your nail polish with ease. Keep scrolling for the 15 best organizers to wrangle up every last one of your nail polish bottles and finally make your life clutter-free.
Advertisement – Continue Reading Below
1
Best On-the-Go Nail Polish Organizer
Luxja Nail Polish Case
Not only is this small case the perfect size for tossing in your tote bag, it's also v affordable. This organizer (which comes in two other colors: pale rose and black) is great for those moments when you want to quickly touch up chipped nails on the way to brunch in your Uber (IYKYK). And with two zippered pouches—inside and outside—you can fit small accessories like nail stickers or cuticle clippers without it looking bulky. 
2
Best Nail Polish Organizer for Professionals
Alcyon Universal Nail Polish Holder & Organizer
A briefcase custom-made for nail polish?! Say less. This lightweight organizer keeps 54 polishes standing upright and tightly snugged (shout out to the foam inserts, which keep your bottles from banging into each other) and it's way easy to carry around, something nail techs will love for in-home appointments. And if you want to use it for, IDK, lip glosses, liquid eyeliners, or mascaras, just remove the inserts and voilà. 
3
Best Tik-Tok-Approved Nail Polish Organizer
Jiasheng Universal Clear Nail Polish Case
Okay, we can all agree that TikTok is the spot for finding under-the-radar products, right? This transparent nail polish organizer (which I discovered on my FYP after some last-night scrolling) is no exception. It's two-sided, has tons of glowing reviews on Amazon, and makes choosing a color super easy. It also has a top handle for carrying, 48 slots, and a side compartment that comes in clutch for polish remover, toe separators, and cuticle oil. 
4
Best Wall-Mounted Nail Polish Organizer
Erytlly Wall-Mounted Nail Polish Rack
DW if you suck terribly at assembling anything (hi, me), because this fancy, scroll-design wall rack is surprisingly painless to put together and is a great space-saving option without overcrowding your counter or cabinet. With five steel shelves that house more than 50 nail polishes, this one puts your massive color-coordinated collection on full display. 
5
Best Starter Nail Polish Organizer
Tbestmax Clear Nail Polish Holder
Is your collection on the smaller side? You really can't go wrong with this acrylic display stand. It's simple, sturdy (like, it definitely won't be breaking anytime soon), and it can hold up to 24 polishes (or lipsticks!). Oh, and there's no need to worry about assembling this bb—which, score.
6
Best Nail Polish Organizer for Gel Manis
Famard Nail Polish Organizer and Nail Dryer Case
It's the nail dryer cubicle for me! This soft-cushion organizer comes with not one, but two cases zippered together that you can separate at any time. The top is for your UV/LED lamp and a nail drill, while the bottom keeps your gel polishes nice and tidy. What's not to love?
7
Best Nail Polish Organizer for Small Apartments
Monstina Makeup Train Case
If you happen to live in an itty-bitty apartment, you'll want to look for a nail organizer that can fit in your closet or underneath your bed. This zippered case (which happens to be Cosmo's deputy beauty director Chloe Metzger's all-time favorite) is not only super roomy on the inside (meaning you can easily group nail polishes by color or brand) but most importantly, it doesn't take up much real estate either.
8
Best Nail Polish Organizer Trunk
Frenessa Rose Gold Nail Polish Train Case
Sry, but can we just take a quick sec to talk about this cute rose-gold color? This heavy-duty, lavish-looking trunk is the perfect travel buddy for your next vacation but it's also pretty enough to leave out on display. The hard-shell casing and sponge dividers saves 24 nail polishes from dancing around or spilling, and as an added bonus, it comes with a built-in mirror, a key lock for extra security, and a pull-out drawer. 
9
Best Eco-Friendly Nail Polish Organizer
Pipishell 5-Piece Bamboo Drawer Organizer Set
Whether sustainable products are your thing or you just want an earthy feel to your room, these bamboo boxes will be right up your alley. You get a set of five various sized trays with this one (but you're free to use as many as you like, ofc) and they sit comfortably on your vanity, underneath the sink, or in a drawer. You've got lots of room for customization here.
10
Best Rotating Nail Polish Organizer
Mokaro 360 Degree Rotating Makeup Organizer
This nail polish organizer is like your very own pint-size merry-go-round, except this one is for all your prized possessions. Thanks to the 360-degree rotation and adjustable shelves, it's easy to find exactly what you're looking for in just a spin. Plus,& you can even customize it to suit taller products, like cleansing oil or toner. 
11
Best All-in-One Nail Polish Organizer
Sorbus Makeup and Jewelry Storage Case Display
It's a no-brainer why over 18K (!) Amazon reviewers, myself included, can't get enough of this pretty little organizer. It's made of thick acrylic, meaning it's ultra-durable, clean up is a breeze, and it's huge. With four large and two small drawers and 16 slots, there's a spot for just about anything (think: contour palettes, jewelry, or even razors). It's also available in seven other colorways, including Blue Brilliance, Bronze Glow, and Teal Thrill. 
12
Best Leak-Proof Nail Polish Organizer
Anrui Nail Polish Organizer
Show of hands, who else here is accident-prone? 👋. No matter how tightly I secure every nail polish bottle, a leak is bound to happen. That's where this waterproof organizer comes in handy: With a nylon interior and exterior, this two-layer bag prevents little spills from turning into a complete nightmare. Bonus: It even comes with its very own manicure tool kit. How cute is that?!
13
Best Nail Polish Organizer for Bathroom Counters
GoBam Makeup Storage Drawer Organizer
Finding a nail polish organizer fit for a bathroom counter is a struggle. It can't be too big and it can't be too small, which makes this pick just right. Yes, this one is also made from bamboo, but it can fit a bunch of things apart from nail polish, like perfumes, liquid foundations, cotton rounds, and even makeup brushes, in its bottom drawer.
14
Best Vegan Leather Nail Polish Organizer
Stagiant Makeup Bag Organizer
Warning: You're probs going to be obsessed with the hand-drawn marble design on this organizer. It's made from vegan leather, looks super cute, and doesn't disappoint in the space department either. As an added bonus, it's got dividers you can easily rearrange, elastic makeup brush holders, and a zippered pocket for keeping all your polishes safe and sound.
15
Best Drawstring Nail Polish Organizer
Lay-n-Go Drawstring Nail Polish Bag
The best part about this one-of-a-kind gem, besides the cute paisley print, is that once you open up the drawstring on a flat surface, it lays out all eight of your polishes and nail accessories in a 18-inch circle, so they're v easy-to-grab. And when you're all done with your DIY manicure, you just cinch the string back up and go on your way.
This content is created and maintained by a third party, and imported onto this page to help users provide their email addresses. You may be able to find more information about this and similar content at piano.io
Advertisement – Continue Reading Below